By Steve Voisin, Cambridge Franchisee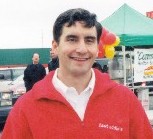 My beginnings here started as a customer, as yours should too. The products are fabulous – the best in the business: from the burgers, to the CrazyFrys and to our unique WildShakes. As my fascination with Fast Eddie's grew, I met with Mike Gorski to discuss my eligibility and potential locations. Fortunately for me, another location was available in Cambridge – at the busiest intersection in the region with definite potential. We met with the landlord and Fast Eddie's provided me with their standard Offer to Lease. After the lease was in place. Fast Eddie's has a reliable contractor to make the standard building with the plans, engineering, signage and equipment all worked out so you, the franchisee, doesn't have to worry about those details. My franchise agreement also included in-store training.
Training sure was an eye opener, as far as how easy it can be. If they can teach a 15 year old, they can certainly train a franchisee! I started making the customer's burgers on my first day with the help of a franchisee trainer. Fast Eddie's has the "right" system of training – as I now know from my own experience. Everything is broken down into short commands that are repeated so you can become productive quickly. Soon after, I was making fries and taking customers' orders. Once you understand how easy it is, there's no stopping the speed of your own progress. Fortunately, Fast Eddie's has all the daily and weekly forms to make paperwork manageable. Each form has examples or directions on them so they can be understood the first time. All food orders come from Fast Eddie's suppliers that have proven their reliability for a number of years. This will ensure that you will be able to serve an exceptional product to your customers now and for years to come.
Head office support has always been consistent; anything from advertising and promotional campaigns, to training and uniform issues, to health and safety and how to satisfy the health department. Store reports and checkups give you ongoing direction as to where you need to focus your efforts. Now that I'm a franchisee, I'm not a number; I'm a partner in the future of Fast Eddie's.
My location has now been open since October of 2001. Sales are steady and I work frequently with head office on ways to increase our customer base, sales and as a result, profits. Being my own boss makes me responsible to the customers personally which turns my own profitability and makes me a figure of my local community. I set my own hours and balance my life at Fast Eddie's with life at home as a husband and a father of two children. I've always seen the potential for Fast Eddie's as a customer and now I hear it from my own customers – "Why are you not in my hometown?" And I always answer, "Because you haven't bought one yet!" My question becomes to you – what's holding you back?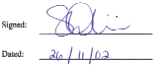 Video Clip - Steve Voisin Testimonial - First Step
Video Clip - Steve Voisin Testimonial - Site Development
Video Clip - Steve Voisin Testimonial - Head Office
Video Clip - Steve Voisin Testimonial - Franchisee
Video Clip - Steve Voisin Testimonial - Training Program
Video Clip - Steve Voisin Testimonial - Staff
Video Clip - Steve Voisin Testimonial - Speedy System
Video Clip - Steve Voisin Testimonial - Outro
Note: Videos can only be viewed on a High Speed connection.
To access Confidential Franchise Information
fill out a PIF (Personal Information Form) NOW!!!